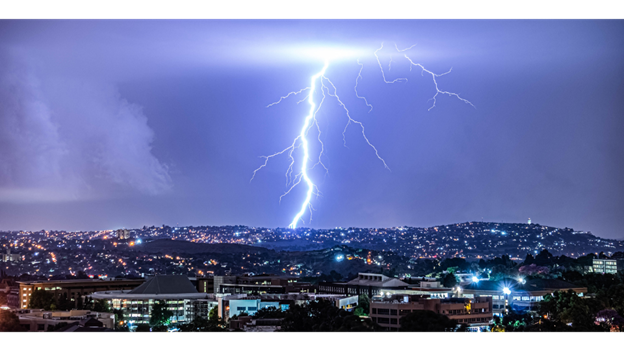 It's that time of year again when severe weather is a possibility. One of the dangers of thunderstorms is the potential for lightning strikes. A lightning strike can cause all sorts of problems for your home, including knocking out your furnace or heat pump. If you find yourself in this situation, don't panic! Here are some troubleshooting tips to help you get your heater up and running again when your heater stops working after a storm.
Is Your Thermostat Displaying Properly?
It doesn't mean your furnace should be working properly if it does still display right; it's just where I always start. Some thermostats only run on the 24 volts provided by the furnace, and some thermostats have AA battery backup. (I just want to know if the system is calling for heat or not.) You've probably already tried this, but if you haven't, observe what condition the stat is in. Is it blank, looks normal, and calls for heat? If it's blank, the thunderstorm could have taken out the low voltage to your furnace. But before opening up the furnace or air handler, let's check the high-voltage power source.  This can also be a reason your heater stops working after a storm.
Check the Main Electrical Panel
Your furnace is supposed to receive 120 volts from the breaker panel on the side of the house. (Some people have high voltage panels located inside the house.) Heat pumps have 240-volt power supplied to them. As a reminder, the air handler or furnace will be located in a closet, the garage, the attic, or maybe you have a package unit on the roof or side of the house. But the first thing you'll want to do is check to see if the power to your furnace is turned off at the breaker box.
If the breaker is "Tripped," flip the switch to the "Off" position, then to the fully "On" position. Wait a few minutes to see if the furnace turns on. If it doesn't, there may be an issue with the power supply to your home. In this case, you'll need to contact your HVAC contractor to investigate and make any necessary repairs.
Inspect the Furnace for Damage (Charring, Soot)
A bolt of lightning hitting near your home can send an enormous amount of damaging heat and energy through your home's electrical system. If the breaker is still on, but there doesn't seem to be any power flowing to the furnace, the next step is to inspect the unit itself for damage. Start by looking for any signs of damage to the exterior of the furnace, such as burns or melted plastic. If you see any black charring or soot, it's possible one of the components inside the unit blew, like a control board, relay, or safety switch. If you see any damage, it's probably best to call in a professional heating and cooling technician to take a look and perform any necessary repairs.  Fox Family can always help finding out why your heater stops working after a storm.
Check for Error Codes
While you're checking the unit, see if there is a sight glass, maybe an inch wide, on the front cover. Without opening the cover, see if any red or yellow LEDs are flashing. Count those flashes and make a note of it. Your HVAC contractor will thank you for having that flash code. Maybe it blinks three times long and two times quickly. That would be an error code of 32. Maybe you just see five steady flashes. The error code would be 5. Each brand is different in how they display error codes, but once the outer panel is removed, a sticker is usually attached to the inside that identifies what those error codes mean. You should really know what you're doing before removing any panels, though. You have to think about your safety first.
Reset the Furnace

If you've checked both the power supply at the main panel and the furnace itself for damage and error codes, and everything seems to be good, the next step is to reset the furnace itself. The easiest way to reset the furnace is to unplug it from the outlet, wait for 30 seconds and then plug it back in. While you're doing that, observe the condition of the outlet cover and plug. If it has burning and soot around it or on the plate, the wiring inside of it could be charred. If you feel comfortable, take a small screwdriver and take the cover plate off to inspect the wiring. If it looks clean, it's probably okay, but I would still replace the plug and cover plate as soon as possible. The cord that leads to the plug should not be melting or discolored either. If it is, that's another thing I would consider having replaced soon.
After you plug the furnace back in, make sure the thermostat is still calling for heat and wait up to five minutes to see if the furnace turns on. Some types of systems have protection that forces the system to lock out for up to five minutes. To us technicians, this can be the longest five minutes EVER!!!
DIY Troubleshooting
Some people are brave enough to move on with troubleshooting their heat pump or heater is not working after a storm, but I have some pretty good articles and videos already posted about how to do that.
Lightning strikes can cause all sorts of problems for your home—including knocking out your furnace or heat pump. If this happens, don't panic! Follow these troubleshooting tips, and you might be able to safely get your furnace up and running again in no time. And remember, if you're ever unsure about what to do or how to fix something, it's always best to call in a professional who can help. Stay safe!
If this is your first time watching our channel, please click subscribe down here on the bottom right, and if you click that little bell next to it, you'll be notified of all of our videos as they come out.
Thanks so much for watching, and we'll see you on the next video.