One common question we frequently receive when visiting people's homes is about air purifiers. Regarding air purification, there are options for both single-room and whole-house systems. However, at our company, we specialize in whole-house air purifiers. We believe that every room in your home deserves clean and fresh air. We can install our purifiers alongside your central heating and cooling system so that the air they purify is distributed evenly throughout your entire home. And as a reminder, these only work when the blower fan is on. These cleaners need air to pass through them to do their job actively. There is a function on every thermostat that allows the fan to run continuously. Some even have a feature that, for instance, allows it to only run 20 minutes of every hour.
To be upfront, though, we use the iWave-R air purifier, an ionizer that effectively removes pollutants from the air. Additionally, we like to install electronic air cleaners with 4″ or 5″ media filters combined with an electrostatic grid. We've also used the Air Scrubber Plus and the APCO UV light, which use ultraviolet light and a photocatalytic oxidizer to improve air quality. With these advanced whole-home air purification products, you can breathe easily and comfortably in every room in your home.
As someone who is passionate about technology, I often find myself having conversations about different brands and products. While some people are quick to declare allegiance to a particular brand, I always try to approach these discussions with an open mind. It's important to me to remain neutral and view each type of air cleaner objectively, considering their strengths and weaknesses. This allows me to have well-rounded conversations and make informed decisions about the products I use.
Ionizers
These devices produce millions of negative ions that cling onto positive ions – aka all of those pesky air pollutants – and cause them to fall to the ground, where they'll be swept up in your regular house cleaning routine. Plus, while the initial installation cost may seem steep, you'll be set for 10 to 15 years – the lifespan of these self-cleaning machines – and won't be paying any extra compared to other UV lights on the market. So, if you're looking for a long-term solution to improve your home's air quality, consider investing in an ionizer.
This is an image of the iWave-R Whole Home In-Duct Air Purifier. A very popular air purifiaction product. Visit www. iwaveair.com.
http://www. iwaveair.com
Now that I've had an iWave in my house for a couple of years, I wonder how good the self-cleaning function is. A plastic T-shaped arm swivels back and forth every few days and sort of flicks off any dust accumulated on the fuzzy tips. I assume the more dust that accumulates on the tips reduces the effectiveness of the iWave over time.
I will tell you, though, my co-worker Keith has had his installed for a couple of years now, and he swears his son, with asthma and allergy issues, has experienced better breathing since.
Photocatalytic Oxidizer
UV lights like the Air Scrubber Plus and APCO air cleaner have recently gained popularity in purifying the air in our homes and offices. They first devised an option for increased "ozone" production to sterilize the air. Now they sell "non-ozone" air scrubbers. They still produce a very small amount, though. While these oxidizers can break down particles in the air, the process can increase breathing problems for those exposed to the ozone. Manufacturers have started putting coatings on the oxidizers to mitigate this issue to limit ozone production.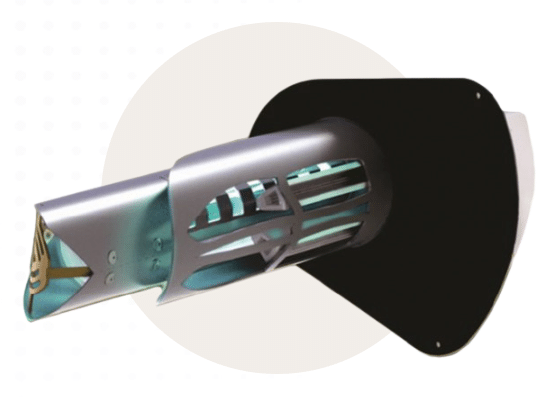 One of the downsides of using UV lights in air purification systems is the need to change the bulb every year or two. This can be costly, especially when you're already shelling out a considerable amount of money for the air cleaner itself. Representatives may argue it's a great way to keep customers returning for more. Still, at Fox Family, we believe in building long-lasting relationships based on trust and quality products. We don't want to attach ourselves to our customers by relying on them to come back and purchase replacement parts constantly. Instead, we strive to provide affordable and reliable solutions for all your air purification needs.
Electronic Media Filters
If you're in the market for an air cleaner, you may want to consider electronic media filters. These filters come in 4″ and 5″ sizes, making them perfect for targeting a wide range of airborne particles. Even better, they are some of the most efficient air cleaners on the market.
But why stop there? By adding an electrostatic grid, the filtration process becomes even more effective, resulting in statically charged particles that stick better to the media filter. If you're looking for the best results in purifying the air in your house, the Aprilaire 5000, the Trane CleanEffects, Carrier Infinity, and the Honeywell F300 are top-notch options to consider. Check out this study on electronic air cleaners to help with your research.
The Trane CleanEffects is excellent. It can capture the tiniest particles of them all. But, you MUST keep it clean because its effectiveness decreases sharply within a few months.
The Aprilaire 5000, Carrier Infinity, and Honeywell F300 capture almost as much as the CleanEffects but continue to clean the tiniest particles longer than the Trane unit.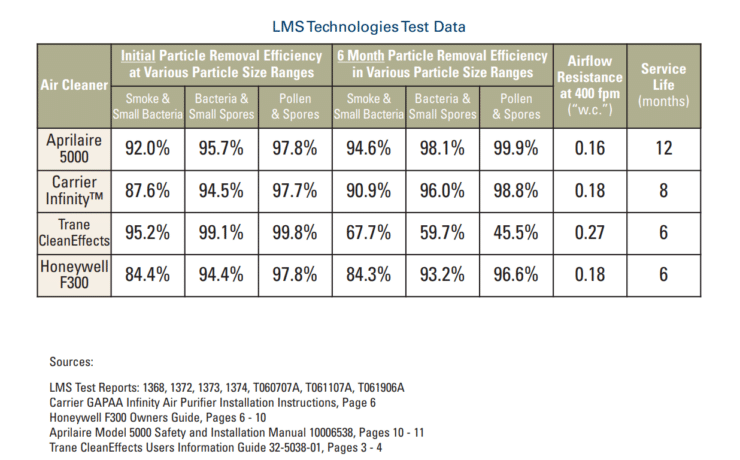 Ultimately, the choice of air cleaner type is based on personal preference and individual needs. It's always best to do the research – compare models, familiarize yourself with the pros and cons. With the right knowledge and some time spent pondering your options, you can make an educated decision that will serve you well. As for me, I'm sold on iWave-R not just because I have it in my home, but also because of its effective performance and nearly maintenance-free design. And as we all know, breathing clean air is essential to our health, so it's worth investing in quality products that are dependable, fast, and efficient at cleaning your indoor air!