NEEDING AIR CONDITIONING REPAIR?
**Choosing the Right AC Repair Company

We know it's never convenient to have your AC break down. By choosing Fox Family Heating and Air Conditioning for your repair, you are guaranteed fast, honest and friendly service.

Our technicians will get out to your home to diagnose the problem as soon as they possibly can. We're careful and protective of your home by putting on shoe covers and cleaning up after ourselves. Our technicians will always greet you with a smile and clearly communicate what the problem is to you. Before we begin with any repair, you will be presented with options for getting your system back up and running.

When we get your system running again, most of those parts are covered with a LIFETIME WARRANTY. So, if the part breaks for any reason, as long as you own the system, we'll replace it, no questions asked.

Air Conditioner Not Blowing Cold Air?

We Repair all Brands of Air Conditioners
We can work on just about anything. No matter what make or model AC you have in your home, we have worked on it. Our staff specializes in residential heating and air conditioning repair on the following brands:

Trane, Ruud, Rheem, American Standard, Coleman, Amana, York, Carrier, Bryant, Lennox, and Goodman.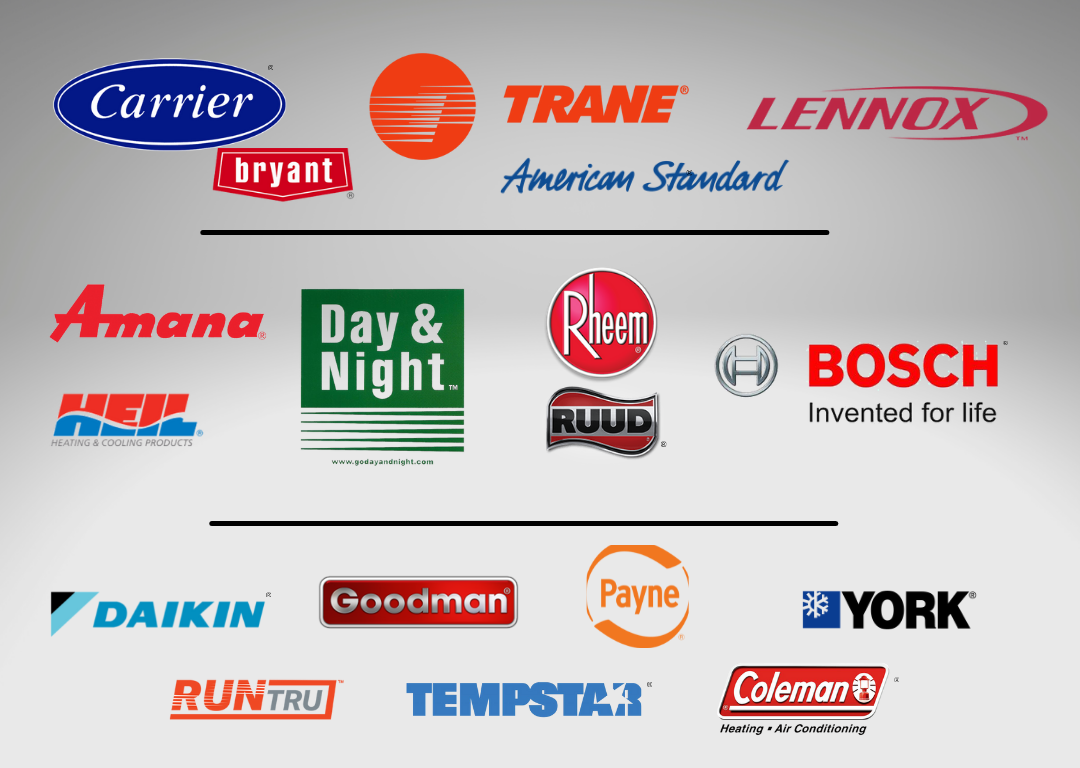 **A lot of our homeowners live in Sacramento, Rancho Cordova, Folsom, and El Dorado Hills. When their AC doesn't work, it can get pretty uncomfortable.

Let's double-check to see if you can do a few things to make sure it's not something you can fix yourself.

Some common things we show up for and fix real quick (and the homeowner kicks themselves for) are things like air filters, thermostats, breakers, and some other basic maintenance practices.

DOUBLE-CHECK THE THERMOSTAT
Make sure the thermostat is set to COOL. Then select the temperature to your desired temperature. Some people don't know what temperature they should set their thermostat, so we wrote an article about it if you'd like to look at that topic.

The AC typically starts blowing cool air immediately. If that's not turning your system on, let's check the power.

Are the batteries on the backside of the thermostat corroded or depleted? If so, go ahead and replace them. Some thermostats don't even have batteries. The HVAC system powers them. Many smart thermostats like the Nest, Honeywell 9000, Ecobee, and others are like this. If the display is blank, we need to check for power at the furnace or air handler. These are usually found in the attic, a closet, or in your garage. Caution, opening a furnace door can expose you to high and low voltages that can injure you.

AIR FILTER
Finally, double-check to make sure your filter is clean. If you don't know where the filter is, give us a call, and we can probably help you find it over the phone. These need to be changed out every 90 days. This is essential maintenance and probably the single most important thing you could do to keep your system running for many years.

If your filter has that brownish tinge to it, I always tell people it's time to change it. Your system needs to breathe in so it can breathe out for you. An impacted filter changed to a clean one will allow this. Now how is your system running?

MAKE SURE IT'S PLUGGED IN AT THE FURNACE
The furnace has a 120v plug, just like a lamp. Make sure it's plugged in. Your furnace is either in the closet, attic, or garage. Some people have an AC/Heating package unit up on the roof. It runs on 240v and has an additional electrical service disconnect at the unit. Checking those high voltage fuses might take a professional to do, but some DIY'ers feel comfortable doing it. If the breaker is on, fuses are good, and the unit is plugged in, then something else is going on.


CHECKING THE BREAKER
If your system isn't blowing any air at all, double-check the electrical breaker in the main panel. It has three positions ON, TRIPPED, and OFF. ON and OFF are when the switch is all the way to the left or right. TRIPPED is if it's in the middle position. As a test, flip it to OFF and then back to ON. Does it trip again immediately? If so, there's a wiring issue that a pro should probably check. If you flip it on and the system starts up, you may have solved the problem for now. If the breaker stays on for a while and then trips again, it's likely the breaker keeps tripping because there is excessive strain on it.

Breakers trip due to heat feeding back to it from the device and wire it's protecting. Your compressor is the part of your system that could be heating that breaker up so much that it trips. For more info on why your breaker keeps tripping, check out this article and video on the topic in our Learning Center.

FAN MODE
Let's say your system is getting power – and you know this because your fan won't stop running. The air is coming out of the vents in each room, but you do not want it to. Double-check the thermostat's FAN mode. Make sure it's on the AUTO setting. There is an ON and an AUTO setting for the fan. If the fan is set to ON, it will run continuously. Some people like to do this because they have an air purifier connected to their HVAC system, and those only work by having air blow past them. Most people have their fan set to AUTO, however. Flipping your fan over to AUTO will make it come on only when the thermostat is asking for cooling.

The fan setting is definitely one of those where the customer kicks themselves for when we get out there and simply flip the switch over to AUTO.

NO LUCK?
If you do call in for a service repair, rest assured Fox Family technicians are trained to thoroughly evaluate your AC and heating system from head to toe so that you can get your home comfortable again at the most crucial times of the year. We know it's an honor to be invited into your home to service your AC system. We promise to earn your trust and respect because we know so many contractors say they are the best HVAC company in Sacramento, Rancho Cordova, Folsom, Fair Oaks, and Elk Grove.

We won't be like the big companies who are just trying to sell you a whole new system either! We can actually repair any part of your air conditioner as long as it's available. Some HVAC systems are so old they just don't make the parts for them anymore. Usually, that is around the 20-year mark for a furnace or AC. So, if you are dealing with an AC repair in Sacramento, trust Fox Family Heating and Air Conditioning to come out and let you know what is going on.