SMUD HVAC Rebates for Sacramento
Did you know that our local utility company still offers some HVAC rebates for air conditioners installed in 2020? It's true!  If you live in Sacramento County in California, you are connected to SMUD's electrical grid.  SMUD is offering some valuable rebates, and you can get yours when you upgrade your old HVAC system to a new one in 2020.
Because of COVID-19, SMUD's well known dual fuel HVAC upgrade and their air conditioner with gas furnace upgrade have both been discontinued for 2020.  But you can still get a $2,500 rebate when you upgrade your current gas/electric.  And an electric to electric upgrade will get you a rebate of $750.
Update!!  Update!!
Starting August 11, 2020, the $2,500 rebate will rise slightly to $3,000. I'm truly shocked to hear this.  If anything, I would have thought the rebate would go lower as the year went along.  The heat pump to heat pump upgrade remains at $750.
Proof Variable Speed Electric is Better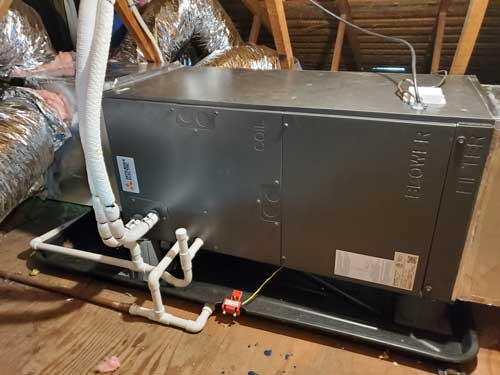 The Mitsubishi variable speed systems save real money!  We recently replaced a Folsom customer's gas furnace and evaporator coil with an SVZ-KP36 electric air handler.
He received a $4000 HVAC rebate from SMUD for the upgrade. That rebate is now "only" $2,500 since COVID has drained money from the pool of funds SMUD had for these rebates.  But still, $2500 is amazing!
We installed the system in February 2020.  I called him at the end of July to give a reference for us to a customer who was wanting to talk to someone who has made the switch from gas/electric to an all-electric variable speed system.  It didn't surprise me when he said he had already saved about $150 in electric bills this summer.  And as I write this, we're not even to August or September yet.  Truly amazing!
Because these systems run at such low speed and amperage, this translates to better comfort levels at lower prices! What's even better is these Mitsubishi systems are about the same prices as a mid-tier "typical" HVAC system, so you're not paying an arm and a leg for this uber-premium system. 
Can I Just Change the AC Condenser?
The HVAC rebates are available on 15 through 20 SEER AC systems and above in 2020.  A question I get a lot is, "can I just change the AC condenser outside?" The answer to that question is, unfortunately, not.  We have to install the complete matching system, which includes a furnace, evaporator coil, and condenser.
The furnace will come with a blower motor with enough technology to reach 16 SEER efficiency.  A constant torque motor is needed to achieve this rating for you successfully.  Fortunately, almost every new system manufactured in 2020 will come with this motor already in it.
Shoot for High-Efficiency
Earlier systems could be manufactured with the classic PSC motor with a capacitor, and those are in a lot of homes around the greater Sacramento area.  But they don't achieve the ratings AHRI expects for high-efficiency, so they're being phased out as more efficient systems are developed.
The evaporator coil near the furnace also needs to be replaced, as the new systems have more coils and more surface area to remove heat and humidity from your home.  An older evaporator coil is typically too small to achieve those higher efficiency ratings.
Fox Family Will Process Your Instant SMUD Rebate
This year when you're buying your new HVAC system, I want you to think about using this rebate offered by the local utility company.  Take advantage of the instant rebate you'll receive from SMUD.  Fox Family takes care of getting that for you when we change out your system.  We simply get your account number from you and submit your application.  A few weeks later, you'll get your check in the mail for immediate use.
16 SEER systems will cost more than 14 SEER systems, but you'll get better cooling for less money spent to get that nice cool air on those 100-degree days.  Taking cash off the price of your new HVAC system puts money back into your pocket!
Call Fox Family with Your Questions
If you have any questions about the HVAC rebates this year offered by SMUD, our local utility provider for electricity, let me know in the comments down below, or you can call or text us anytime at Fox Family Heating and Air Conditioning.  We service the entire Greater Sacramento area.  Book online and we'll come out and give you an honest opinion of how your system is running, and let's see if you could really save some money by purchasing your new high-SEER air conditioner.
These HVAC rebates are real, and they belong in your pocket in 2020.  I hope this answers your questions about the rebates offered by SMUD when you buy a new air conditioning system in Sacramento County.  Please let me know your thoughts on this down below in the comments.  Thank you so much, and we'll see you back here on the blog next week!
Don't miss these related videos: